NURS 6003 Examining Nursing Specialties
NURS 6003 Examining Nursing Specialties
NURS 6003 Examining Nursing Specialties
Specialization is the process of concentrating and becoming an expert in a subject or skill. In the medical field, it provides professionals an opportunity to sift through the thousands of different aspects of the field and focus on one. This allows them to be unique compared to others and lets them pursue something they are passionate about. The freedom of specialization is immense and one of the amazing parts about specializing in Nursing. There are so many different options, it can sometimes feel overwhelming. That is why this process usually occurs later in a nurse's career. After they have had time to see what intrigues them in the workplace and gain experience. Almost anything can affect your decision from your past jobs to your interactions with the patients to family members. It creates a one-of-a-kind back story for every nurse.
In my case, the nursing specialty I would love to choose is Acute Care. An Acute Care Nurse Practitioner is one who advanced practices the nursing role to care for critically ill patients with the intent of improving continuity of care and patient outcomes. This role is especially valuable as they are very helpful to ease the load off physicians. In fact, one eye-catching fact that intrigues me about them was the history of this position. This position was initially created to decrease the increasing workload of physicians and address the lack of acute care in hospitals. This high priority position seems to be very fitting for me as I love to take control and lead in times of confusion. I believe I can use my experience and calm and collected mindset to aid the situations. The reasons as to why I decided this nursing specialty was because of my experience as an Acute Surgical RN.
I started my first job as an Emergency room RN. As a nurse in acute care, I was responsible for time-sensitive illnesses and injury, rapid intervention to prevent death or disability, and restoring optimal health to patients. Acute care nurses must be able to react quickly and efficiently during high stress situations. Emotions are very high during these cares, but a nurse must be professional while practicing empathy for patients and their families." ("acute care nurse practitioner role in Canada: Longwoods.com," n.d.) I always wanted to be part of
critical communication and coordination link between all aspects of patient care of the acute and critically ill patients. The acute care, as a speciality, in NP program attracts me due to my past experience and a very rewarding position as you see patients improve but it can be a humbling experience every day which prompts further learning and improvement of skills. I believe that seeing what an Acute setting is like would prepare me promptly for such a specialization; supportive leadership of health care managers; and stable and predictable funding.
The difficulties that I had making this choice of specialization is that there are so many different options to choose from. It is very difficult and stressful to pinpoint the exact field you would like to dive into. Looking at each category of the MSN program, I saw that everyone had their own advantages. Knowing that this decision will determine what you will have to do daily is something that requires lots of thought and care. I wanted to do something where I could use my experience from the past and learn more in the process.
The sole factor that drove me towards my position was the patients at my hospital. Seeing them get more satisfaction from NPs compared to their designated Physicians. These patients had fewer unnecessary readmissions and emergency visits. In fact, Nurse practitioners are proven to decrease patient hospitalizations, ER visits and lengths of stay at various facilities, keeping health care costs down for patients, institutions, and taxpayers, and reducing time and income lost from work. ("Online acute care nurse practitioner MSN program | Walden University," n.d.) Seeing all these amazing this done by previous Nurse Practitioners inspires and drives me to make my decision. This satisfaction I receive treating the patients, alongside my passion, is my driving force.
Also Read:
NURS 6003 Developing An Academic And Professional Network
NURS 6003 Discussion Strategies For Academic Portfolios
NURS 6003 Module 3 Research Analysis
Finally, the last factor that is driving me to choose this specialty is my experience and expertise in the topic care (Forbes & Jessup, 2004). This journey requires rigorous graduate level academic preparation, acquisition of new knowledge and skills, and major changes in function and scope of practice. Graduate nursing education can be a time of great inspiration and excitement, yet it is also a time of upheaval and challenge for students while they struggle to meet academic demands and begin to make the transition from RN to FNP The American Association of Nurse Practitioners or AANP is one of the largest professional organizations in the USA. Within this association, there is the Acute Care Specialty Practice Group (SPG) which provides the opportunity to interact with colleagues in the same field. The AANP membership is customized to be a unified way to network and advocate their issues. AANP. "Whether you are just beginning your NP education or retiring from the profession, you can support the NP role while receiving member benefits that, in turn, support you personally and professionally". ("AANP | The American Association of Nurse Practitioners," 2019) The process to gain the membership is very seamless and easy. Simply, go onto their website at aanp.org and find the membership section. Then go to the NP type and follow the procedure to get the membership. There is a $150 fee; however, once you are in the organization you are given the rights to voting in Association elections. They do not look at you at a simple member, but as a unique part of their large society. It is a very helpful setting for old and new Nps.
References
AANP | The American Association of Nurse Practitioners. (2021, Nov 14). American Association of Nurse Practitioners. https://www.aanp.org/? gclid=CjwKCAjwmf_4BRABEiwAGhDfSbB3XIfgFLRdk2qeSs_ThVUVYJOPmmXHk YIke2q8QJcRXBrQoCuATBoCwfsQAvD_BwE
The acute care nurse practitioner role in Canada:: Longwoods.com. (n.d.). Longwoods Publishing :: Longwoods.com. https://www.longwoods.com/content/22272/nursing- leadership/the-acute-care-nurse-practitioner-role-in-canada Online acute care nurse practitioner MSN program
Walden University. (n.d.). Walden University: Accredited Online University Online Degree Programs. https://www.waldenu.edu/online-masters-programs/msn-nurse-practitioner-
My first step when choosing a nursing specialty within the program was to know what I absolutely did not want to do within this profession. I Immediately knew that I was not interested in psychiatric nursing, pediatrics or maternity. Nursing education is a specialty that I am very interested in, but not at this time. I would love to be an adjunct faculty at a college or university once I have been a nurse for 15 years or greater. Having been a nurse for only 7 years, I believe that gaining more experience in the field will help me to become an even better instructor. Moreover, I realized that I was no longer interested in working in a hospital setting so the acute care nurse practitioner program also did not seem like a good fit for me. I chose the adult gerontology primary care nurse practitioner (AG PCNP) program because I wanted to work with the older population and build long-term relationships with my patients. I also like the fact that this specialty's scope of practice is based on patient needs rather than the setting itself (Adult-Gerontology NP Competencies Work Group, 2016).
Professional organizations seek to advance the profession and interests of its members. However, the cost of membership can be a deterrent for many nurses especially if a nurse wants to become a member of multiple organizations. Since membership to these organizations comes at a cost, it would behoove the nurse to take time choosing an organization to join. Choosing the right organization includes ensuring that membership in a particular organization is in line with personal and professional goals (Echevarria, 2018). As a future AG PCNP, I am interested in becoming a member of the American Association of Nurse Practitioners (AANP). I believe that no matter the specialty, it is extremely important to build a solid foundation as I advance in the nursing profession in a new role. NURS 6003 Examining Nursing SpecialtiesThis organization provides flexibility with membership, offering six options for membership based on where you are in your career. For example, there is a student NP membership with an annual fee of $55. This membership is made specifically for the student nurse practitioner who does not have experience in the role. It provides opportunities for networking and free continuing education courses to facilitate career growth (American Association of Nurse Practitioners, n.d.). In order to apply for membership, simply click the link that says "Join AANP" and the user will be redirected to another page for which they will be given prompts to join. Licensing information is required and the annual fee is due at the time of registration (American Association of Nurse Practitioners, n.d.).
References
Adult-Gerontology NP Competencies Work Group. (2016). Adult-gerontology acute care and primary care NP competencies. https://cdn.ymaws.com/www.nonpf.org/resource/resmgr/competencies/NP_Adult_Geri_competencies_4.pdf
American Association of Nurse Practitioners. N.d. Membership. Retrieved November 1, 2021 from https://www.aanp.org/membership
Echevarria, I. M. (2018). Make connections by joining a professional nursing organization. Nursing, 48(12), 35–38.
REPLY QUOTE EMAIL AUTHOR
RE: Patrice Williams: Initial Post
COLLAPSE
Hi Patrice,
Thank you for providing details on your professional nursing journey. I sympathize with your struggles on deciding where you feel you are a best fit after achieving your graduate nursing degree. We are similar in our choices, I also did not see myself working in psychiatric or maternal-fetal medicine. I have been working in acute care and recently made the switch from the FNP program to the Adult-Gerontology Acute Care Nurse Practitioner program.
Adult-Gerontology Primary Care nurse practitioners (AGPCNP) are responsible for developing relationships with their patients that will assist them in preventing acute exacerbations of chronic diseases and the development of new illnesses.
According to the American Association of Nurse Practitioners (2020):
Many AGPCNPs work in long-term care settings, hospital-based clinics and private practices, which may require them to obtain medical histories, perform physical examinations, order screening tests, interpret diagnostic tests and administer age-appropriate pharmacological and nonpharmacological therapies. AGPCNPs may also manage transitions between care settings, provide patient and caregiver education and evaluate caregiver competence (para. 2).
You described that you want to develop strong patient-caregiver relationships, so I feel that you are making the right choice. These patients will be part of your long-term clientele, so when you are making decisions based on their health status, you will be well aware of not only their health history, but of social, environmental, and financial factors that attribute to their health.
Since you expressed interest in primary care and nursing education, I feel that this puts you in an interesting position to become a nursing leader. Primary care will allow you to understand the influence of laws, public policy, and epidemiology on the health of your patients. It is important that you are aware of health policy because it will affect the care that your patients receive, as well as insurance premiums, medication affordability, and more. As a nurse educator, your job will be to teach the foundations of nursing to students who will develop their own self-concept as a nurse and hopefully seek out leadership roles. The profession needs nursing leaders to influence policymakers to create laws that improve healthcare working conditions and protect staff and patient safety. The AGPCNP competencies include a section on policy. These competencies explain that professional nurses should advocate for healthcare laws that dismantle barriers to care, understand the policymaking process and the factors that influence laws, and evaluate the effects that health policies have not just on a single area, but across the globe. Ultimately, the nurse practitioner should promote improved delivery of services to the patient to improve safety and health outcomes (Adult-Gerontology NP Competencies Work Group, 2016). I hope you give this some thought as nursing education really needs to include policy development! We need nurses invested in leadership and transformation of the field.
Great post!
Clint R.
References
Adult-Gerontology NP Competencies Work Group. (2016). Adult-gerontology actue care and primary care NP competencies. The National organization of nurse practitioner faculties. Retrieved November 4, 2021, from https://cdn.ymaws.com/www.nonpf.org/resource/resmgr/competencies/NP_Adult_Geri_competencies_4.pdf
American Association of Nurse Practitioners. (2020, June 17). Are you considering a career as an adult-gerontology primary care nurse practitioner? Retrieved November 4, 2021, from https://www.aanp.org/news-feed/are-you-considering-a-career-as-an-adult-gerontology-primary-care-nurse-practitioner
REPLY QUOTE EMAIL AUTHOR
2 months ago
Lucy Njogu
RE: Patrice Williams: Initial Post
COLLAPSE
Hello Patrice,
The approach you took towards choosing your nursing specialty is quite interesting. For most people – me included – the first step was figuring out what they wanted to do. However, I see the point in your approach since knowing what you do not want to do leaves you with a choice of specialties you will be comfortable with. Research has shown that many nursing students choose their career paths based on superficial observations (Marcinowicz et al., 2016). Therefore, knowing what you do not like about a specialty helps you avoid making an ill-informed decision that will affect the rest of your professional life. I also admire your interest in working with the elderly and taking up the responsibility of preparing future generations of nurses. The number of Americans aged six-five and older will account for 20% of the entire population (Fulmer et al., 2021). This trend implies that gerontology will become an essential field to prove quality care among older adults. As you pointed out, gaining more experience through interacting with patients will help build your knowledge, which is crucial to teaching nursing students. Overall, your approach towards selecting nursing specialties shows that you are committed to the betterment of the profession.On the other hand, selecting which professional nurse organization to join can also be a big decision for any nurse. These organizations have different values and missions, and a nurse needs to find an organization that aligns with their values.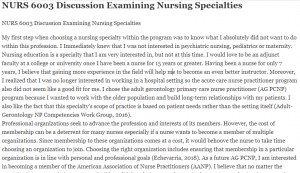 The membership cost is one of the most significant barriers to joining a professional nurse organization since some have very high fees. However, research has established that most nurse practitioners are interested in improving their profession, competence, and valuable professional programs (Rowley et al., 2019). Therefore, these are some factors to consider when deciding whether or not to join a specific organization. As implied in your post, building a solid foundation is critical to your advancement through the profession. I would also add that one should choose an organization that advocates for improving professional and patient care.. Since you are interested in taking up nursing teaching in the future, it could be valuable to consider how the different professional nurse organizations can help you prepare for this career path.
References
Fulmer, T., Reuben, D., Auerbach, J., Fick, D., Galambos, C., & Johnson, K. (2021). Actualizing better health and health care for older adults. Health Affairs, 40(2), 219-225. https://doi.org/10.1377/hlthaff.2020.01470
Marcinowicz, L., Owlasiuk, A., Slusarska, B., Zarzycka, D., & Pawlikowska, T. (2016). Choice and perception of the nursing profession from the perspective of Polish nursing students: A focus group study. BMC Medical Education, 16(1). https://doi.org/10.1186/s12909-016-0765-3
Rowley, T., Balk, J., Guo, J., & Wallace, A. (2019). Factors influencing nurse practitioners' decisions to join nurse practitioner associations. Journal of the American Association of Nurse Practitioners, 32(2), 152-159. https://doi.org/10.1097/jxx.0000000000000231
REPLY QUOTE EMAIL AUTHOR
2 months ago
PATRICIA OMOROGBE
RE: Patrice Williams: Initial Post
COLLAPSE
Hello Patrice,
Patrice, your discussion on the choice of specialty as adult gerontology primary care nurse practitioner (AG PCNP) is well done. You have brought up well detailed analysis based on the course requirements, which is an indication of good grasp of the course content. One of the best things with this specialty is the autonomy enjoyed by the nurse practitioners. AG PCNPs are exposed to wide range of duties such as ordering medical tests, taking advance case histories, referring patients to specialists, and medication management and prescription (Michael et al., 2019). However, as a nurse specialized in geriatrics, you should acknowledge the common challenges facing AG specialty. One of the challenges is being sensitive to the aging process by recognizing the unique challenges the elderly people encounter as they undergo emotional, physical, and social revolutions of aging (Kennedy-Malone et al., 2018). There is also need to understand common mental health issues among the elderly people such as depression and the strategies to support them and their families (Zerwekh, 2018). Importantly, AG PCNP should acknowledge and be ready to face death and loss of the seniors by developing various self-care techniques that can be utilized to address loss in healthy ways.
References
Kennedy-Malone, L., Martin-Plank, L., & Duffy, E. (2018). Advanced practice nursing in the care of older adults. FA Davis.
Michael, M., Wilson, C., Jester, D. J., Andel, R., D'Aoust, R., Badana, A. N., & Hyer, K. (2019). Application of curriculum mapping concepts to integrate multidisciplinary competencies in the care of older adults in graduate nurse practitioner curricula. Journal of Professional Nursing, 35(3), 228-239. https://doi.org/10.1016/j.profnurs.2019.01.007
Zerwekh, J. (2018). Adult-Gerontology Primary Care Nurse Practitioner Certification Review-E-Book. Elsevier Health Sciences.
More Assignments:
NURS 6003 Discussion Using The Walden Library
NURS 6003 The Connection Between Academic And Professional Integrity
NURS 6003 Discussion Networking Opportunities
REPLY QUOTE
2 months ago
Iliuva Ramirez
RE: Patrice Williams: Initial Post
COLLAPSE
Hello Patrice
I agree with you that choosing a nursing specialty requires one to evaluate their interests. As healthcare grows more complex, many people decide to focus their efforts on a specific nursing area. There are numerous benefits if specializing in a particular area of nursing, including greater job security, increased salary potential, and increased respect and recognition. Considering your personality and interest when choosing a nursing specialty is important. Every nursing specialty has its own environment and pace; thus, individuals select the specialty that complements their personality style or interests them. One should also reflect on why they choose nursing as their profession and reflect on what made them become nurses, which will help them narrow down what they are looking for in the nursing career. After self-reflection, the next step is to consider what excites you about the nursing career. Choosing a specialist that aligns with an individual's passions and personal interests will ensure job satisfaction.
In addition to an individual's interests, the other thing you can consider is your goal. Generally, once you have an idea of your nursing interests, thinking about your future for your nursing career or what you wish to accomplish is also important. Before choosing a nursing specialty, you should ask yourself where you want to see yourself in the next team years. Identifying your goal for your nursing career will help you determine the steps you should take to achieve your goals. Your chosen nursing specialty is gerontology primary care nurse practitioner (AG PCNP). I do not know much about this nursing specialty, but reading your post has enabled me to understand what it entails. Joining a professional organization is also beneficial to all nurses. Joining a professional organization helps one stay updated on the current knowledge and practices available globally, locally, and regionally (Clement, 2016). You should consider joining the organization you are interested in, as it will help you stay updated on the current issues and opportunities as you continue to advance in your career.
References
Clement, N. (2016). Professional organization membership. Essentials of Management of Nursing Service and Education, 3(1), 690-690. https://doi.org/10.5005/jp/books/12694_77