NURS 6003 Week 10 Examining Nursing Specialties
NURS 6003 Week 10 Examining Nursing Specialties
NURS 6003 Week 10 Examining Nursing Specialties
Specialization is the process of concentrating and becoming an expert in a subject or skill. In the medical field, it provides professionals an opportunity to sift through the thousands of different aspects of the field and focus on one. This allows them to be unique compared to others and lets them pursue something they are passionate about. The freedom of specialization is immense and one of the amazing parts about specializing in Nursing. There are so many different options, it can sometimes feel overwhelming. That is why this process usually occurs later in a nurse's career. After they have had time to see what intrigues them in the workplace and gain experience. Almost anything can affect your decision from your past jobs to your interactions with the patients to family members. It creates a one-of-a-kind back story for every nurse.
In my case, the nursing specialty I would love to choose is Acute Care. An Acute Care Nurse Practitioner is one who advanced practices the nursing role to care for critically ill patients with the intent of improving continuity of care and patient outcomes. This role is especially valuable as they are very helpful to ease the load off physicians. In fact, one eye-catching fact that intrigues me about them was the history of this position. This position was initially created to decrease the increasing workload of physicians and address the lack of acute care in hospitals. This high priority position seems to be very fitting for me as I love to take control and lead in times of confusion. I believe I can use my experience and calm and collected mindset to aid the situations. The reasons as to why I decided this nursing specialty was because of my experience as an Acute Surgical RN.
I started my first job as an Emergency room RN. As a nurse in acute care, I was responsible for time-sensitive illnesses and injury, rapid intervention to prevent death or disability, and restoring optimal health to patients. Acute care nurses must be able to react quickly and efficiently during high stress situations. Emotions are very high during these cares, but a nurse must be professional while practicing empathy for patients and their families." ("acute care nurse practitioner role in Canada: Longwoods.com," n.d.) I always wanted to be part of
critical communication and coordination link between all aspects of patient care of the acute and critically ill patients. The acute care, as a speciality, in NP program attracts me due to my past experience and a very rewarding position as you see patients improve but it can be a humbling experience every day which prompts further learning and improvement of skills. I believe that seeing what an Acute setting is like would prepare me promptly for such a specialization; supportive leadership of health care managers; and stable and predictable funding.
Also Read:
NURS 6003 Developing An Academic And Professional Network
NURS 6003 Discussion Strategies For Academic Portfolios
NURS 6003 Module 3 Research Analysis
The difficulties that I had making this choice of specialization is that there are so many different options to choose from. It is very difficult and stressful to pinpoint the exact field you would like to dive into. Looking at each category of the MSN program, I saw that everyone had their own advantages. Knowing that this decision will determine what you will have to do daily is something that requires lots of thought and care. I wanted to do something where I could use my experience from the past and learn more in the process.
The sole factor that drove me towards my position was the patients at my hospital. Seeing them get more satisfaction from NPs compared to their designated Physicians. These patients had fewer unnecessary readmissions and emergency visits. In fact, Nurse practitioners are proven to decrease patient hospitalizations, ER visits and lengths of stay at various facilities, keeping health care costs down for patients, institutions, and taxpayers, and reducing time and income lost from work. ("Online acute care nurse practitioner MSN program | Walden University," n.d.) Seeing all these amazing this done by previous Nurse Practitioners inspires and drives me to make my decision. This satisfaction I receive treating the patients, alongside my passion, is my driving force.
Finally, the last factor that is driving me to choose this specialty is my experience and expertise in the topic care (Forbes & Jessup, 2004). This journey requires rigorous graduate level academic preparation, acquisition of new knowledge and skills, and major changes in function and scope of practice. Graduate nursing education can be a time of great inspiration and excitement, yet it is also a time of upheaval and challenge for students while they struggle to meet academic demands and begin to make the transition from RN to FNP The American Association of Nurse Practitioners or AANP is one of the largest professional organizations in the USA. Within this association, there is the Acute Care Specialty Practice Group (SPG) which provides the opportunity to interact with colleagues in the same field. The AANP membership is customized to be a unified way to network and advocate their issues. AANP. "Whether you are just beginning your NP education or retiring from the profession, you can support the NP role while receiving member benefits that, in turn, support you personally and professionally". ("AANP | The American Association of Nurse Practitioners," 2019) The process to gain the membership is very seamless and easy. Simply, go onto their website at aanp.org and find the membership section. Then go to the NP type and follow the procedure to get the membership. There is a $150 fee; however, once you are in the organization you are given the rights to voting in Association elections. They do not look at you at a simple member, but as a unique part of their large society. It is a very helpful setting for old and new Nps.
References
AANP | The American Association of Nurse Practitioners. (2021, Nov 14). American Association of Nurse Practitioners. https://www.aanp.org/? gclid=CjwKCAjwmf_4BRABEiwAGhDfSbB3XIfgFLRdk2qeSs_ThVUVYJOPmmXHk YIke2q8QJcRXBrQoCuATBoCwfsQAvD_BwE
The acute care nurse practitioner role in Canada:: Longwoods.com. (n.d.). Longwoods Publishing :: Longwoods.com. https://www.longwoods.com/content/22272/nursing- leadership/the-acute-care-nurse-practitioner-role-in-canada Online acute care nurse practitioner MSN program
Walden University. (n.d.). Walden University: Accredited Online University Online Degree Programs. https://www.waldenu.edu/online-masters-programs/msn-nurse-practitioner-
In this discussion post, I will explain my choice in a nursing specialty within the program, difficulties in making my choice, and the factors that drove my decision. I will also identify one professional organization affiliated with my chosen specialty and provide details on becoming a member.
The nursing specialty program I chose to study is family nurse practitioner. I had trouble deciding between an acute nurse practitioner and a family nurse practitioner because I have worked in an ICU my entire nursing career and I love it. However, COVID opened my eyes to the need for education and primary care communities lack. According to an article I found, 34 out of 50 states will have physician shortages by 2030 including primary and specialty care (Zhang et al., 2020). Family nurse practitioners provide services for individuals and families throughout the lifespan (Nurse.org Staff, 2020). Being bilingual as well I feel that my job will be even more rewarding in being able to be a provider in the hispanic population and promote health. My goal as an FNP is to avoid people from deteriorating and ending up in an ICU.
A professional organization affiliated with family nurse practitioners is the American Association of Nurse Practitioners. AANP not only provides memberships for Nurse Practitioners but also for nurse practitioner students, and retired nurse practitioners. The AANP's mission is to empower nurse practitioners to advance quality health care through practice, education, advocacy, research, and leadership. Being a member of AANP also provides nurses with an opportunity to have a voice in Congress through the website's advocacy center (American Association of Nurse Practitioners, n.d.). The AANP is definitely an organization I will be joining since I now know nurse practitioner students can be a part of this amazing organization. I am beyond excited to learn how to treat a broader patient population and to become a resource to urban families.
Resources
American Association of Nurse Practitioners. (n.d.) Why Join? https://www.aanp.org/membership/why-join
Nurse.org Staff. (2020). What is a Family Nurse Practitioner? https://nurse.org/resources/family-nurse-practitioner/
Zhang, X., Lin, D., Pforsich, H., & Lin, V. W. (2020). Physician workforce in the United States of America: forecasting nationwide shortages. Human resources for health, 18(1), 8. https://doi.org/10.1186/s12960-020-0448-3.
You have probably seen one or more of the many inspirational posters about decisions. A visual such as a forked road or a street sign is typically pictured, along with a quote designed to inspire.
Decisions are often not so easily inspired. Perhaps you discovered this when choosing a specialty within the MSN program. This decision is a critical part of your plan for success, and you no doubt want to get it right. This is yet another area where your network can help, as well as other sources of information that can help you make an informed choice.
Note: Unless otherwise noted, initial postings to Discussions are due on or before Day 3, and response postings are due on or before Day 6. You are required to participate in the Discussion on at least three different days (a different day for main post and each response). It is important to adhere to the weekly time frame to allow others ample time to respond to your posting. In addition, you are expected to respond to questions directed toward your own initial posting in a timely manner.
To Prepare: Consider your decision to pursue a specialty within the MSN program, as well as your professional and academic objectives in relation to your program/specialization.
Post an explanation of your choice of a nursing specialty within the program by Day 3 of Week 10. Describe any difficulties you encountered (or are experiencing) in making your decision, as well as the factors that drove/are driving your decision. Identify at least one professional organization associated with your chosen specialty and provide information on how to join.
Respond to at least two of your colleagues' posts by Day 6 of Week 10 by sharing your thoughts on their specialty, supporting their choice, or offering suggestions if they have yet to choose.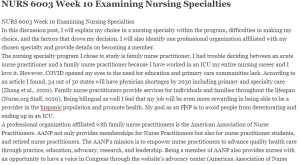 RE: Discussion – Week 10 Initial Post
Collapse
In this discussion board, my career choice, career difficulties, and choice of association affiliation will be discussed.
My chosen profession is family practice with my Advanced Practice Registered Nurse (APRN). The APRN regulatory model includes licensure, accreditation, certification, and education (APRN Consensus Work Group & the National Council of State Boards of Nursing ARPN Advisory Committee, 2008). With this degree, I plan on taking care of families in rural Ohio. I enjoy caring for the entire life span. I also have seven years of experience as a nurse in the primary care setting and feel like my colleagues have molded me to grow into this position.
The main difficulty I have is self-doubt. It is hard to believe that I am in this program. Little things keep me going. I recently had a high school friend reach out to me for insight into her grandson's NICU stay. Last week I had a new coworker ask me to look in her ears because she knew my background and trusted my opinion. Examples like the ones above help me stay on track.
I plan on joining the Ohio Association of Advanced Practice Nurses (OAAPN). This association is committed to the health and welfare of all Ohioans (Ohio Association of Advance Practice Nurses, 2021). Through philanthropy opportunities the OAAPN promotes contributions to rural Ohio Appalachia, where I reside and care for my community members (Ohio Association of Advance Practice Nurses, 2021). Through memberships, career growth, professional development, and advocacy are some membership values that align with the American Nurse's Association Using Stop and Standards of Practice (Echevarria, 2018).
In conclusion, I have a pretty well-developed plan with a great support system cheering me on! Maintaining the current schedule and believing in myself are some things to work on for continual growth.
References:
APRN Consensus Work Group & the National Council of State Boards of Nursing ARPN Advisory Committee. (2008). Consensus model for APRN regulation: Licensure, accreditation, certification & education. nursingworld.org
Echevarria, I. M. (2018). Make connections by joining a professional organization. Nursing, 48 (12), 35-38.
Ohio Association of Advance Practice Nurses. (2021). oaapn.org
RE: Discussion – Week 10
Examination of Nursing Subspecialties
Every decision we make in life is a consequence of earlier decisions that brought us down a certain road to the present decision. Similarly, each decision we make in the present influences the decisions we will face in the future. Choices are ubiquitous and constitute an endless chain reaction. In the past year, I have made numerous significant decisions regarding my nursing career. While I am still wondering if I have made the correct decisions, I am certain that "there is a growing demand for advanced practice registered nurses," and if I want to contribute to my profession at a higher level, I must return to school to earn my master's degree (Laureate Education, 2018).
The decision to enroll in a master's degree was straightforward. However, it was followed by several crucial considerations, such as the sort of master's degree I wanted to pursue, the school I wanted to attend, and how I would balance being a full-time nurse, mother, and wife. Although I encountered these obstacles when I decided to enroll in a master's program, I immediately recognized that my desire is to become a family nurse practitioner, and the online, distance-learning program at Walden University made it easier to balance school and life. At this point in my life, I am confident in the choices I've made thus far, but I've reached another crossroads.
As a family nurse practitioner, I am currently at a crossroads where I must decide in which field I choose to specialize. Given my passion for cosmetics and beauty, I am strongly contemplating using my degree to enter the aesthetics nursing field. On the other side, with my training in critical care and my desire to help people in their time of need, I would miss dealing with sick patients and their families. Unfortunately, I do not yet have an answer to this decision, but I am fine with it since time will tell, and my true passion will lead me to my next step in life.
I intend to use resources such as professional nursing organizations to guide my decision, despite the fact that a number of factors, such as the field that would provide me with the most job satisfaction, scheduling, wages, and job security, all contribute to the decision that will determine my future for years to come. Professional nursing organizations have helped "support nursing practice, explain nursing principles, and encourage self-regulation" for more than a century, while also offering nurses with countless possibilities to positively impact the nursing profession (Cherry et al., 2019, p. 517). Given this information, I intend to join the American Association of Nurse Practitioners (AANP) as a student to guide my future nursing practice.
As a student, joining a nursing organization like the AANP will provide me with access to innovative nursing conferences, current publications for APRNs, free CEUs, and opportunities to network with other nurse practitioners in order to begin forming partnerships (American Association of Nurse Practitioners, n.d.). All of these possibilities will assist me in achieving my goal of becoming a successful family nurse practitioner in aesthetics, critical care, or whatever else I may discover along the way. Ultimately, "nurses should seek membership in organizations that will best satisfy their professional and personal aspirations," and the AANP will allow me to do just that (Echevarria, 2018, p. 36). For the discounted student rate of $55 per year, joining the American Association of Nurse Practitioners seemed to be the obvious choice that will lead me in the proper direction to pursue my nursing passion as a master's-level family nurse practitioner.
References
Cherry, B. , Caramanica, L. , Everett, L. Q. , Fennimore, L. & Scott, E. (2019). Utilizing the Leadership Potential of Boards in Professional Nursing Organizations Journal of Nursing Administration, 49(11), 517-519.
Echevarria, I. M. (2018). Join a professional nursing group in order to develop your network. Nursing, 48 (12), 35-38. doi: 10.1097/01.NURSE.0000547721.84857.cb.
Produced by Laureate Education (2018). Final Thoughts on the Walden Path to a Master's in Nursing [Video file]. Membership, American Association of Nurse Practitioners, Author, Baltimore, MD (n.d.). https://www.aanp.org/membership.
More Assignments:
NURS 6003 Discussion Using The Walden Library
NURS 6003 The Connection Between Academic And Professional Integrity