NURS 6050 Discussion Big Data Risks and Rewards
NURS 6050 Discussion Big Data Risks and Rewards
Click here to ORDER an A++ paper from our Verified MASTERS and DOCTORATE WRITERS: NURS 6050 Discussion Big Data Risks and Rewards
Big data refers to volume, high-velocity, and high-variety data assets that require cost-effective, innovative ways of information processing to improve insight and decision making. Big Data in health care comprises high-volume, highly diverse biological, clinical, lifestyle, and environmental, information obtained from single individuals to large cohorts, regarding their health and wellness status (Catalyst, 2018). In this regard, this paper seeks to explore potential benefits, challenges, and risks that may arise from using Big Data in the clinical system and strategies that may be used to mitigate the risks.
Also Read:
NURS 6050 Politics And The Patient Protection And Affordable Care Act
NURS 6050 Discussion Presidential Agendas
NURS 6050 The Nurse Leader As Knowledge Worker Essay
NURS 6050 Role Of Nurse Informatics In Systems Development And Implementation
Potential Benefit of Using Big Data as Part of a Clinical System
Big Data analysis is a complex process as it involves combining various types of information, which are electronically captured. In the clinical system, Big Data analysis is used to gather information from patient summaries, electronic healthcare records, clinical trials, telemedicine, genomics and pharmaceutical data, and mobile apps (Catalyst, 2018). The availability of health-related Big Data can have a positive impact on medical and healthcare functions and information on well-being, behavior, and socio-economic indicators.
The use of Big Data can contribute to the improvement of patient outcomes. Health providers can access lots of patient-treatment and care information, including clinical trials and pharmaceutical data, which promotes evidence-based decision making (Pastorino et al., 2019). Big Data can result in enhanced patient outcomes at various levels. The first level is in diagnosis, in which it promotes early diagnosis and effective, quality treatments. It helps in accessing information on early signs and symptoms of a disease, interventions, and reducing the possibility of adverse reactions in treatment (Pastorino et al., 2019). Secondly, Big Data helps identify risk factors for various health conditions and thus increases the opportunities for preventing diseases (Pastorino et al., 2019). This guides health promotion and improves public health outcomes. Big Data increases pharmacovigilance and patient safety by increasing providers' ability to make informed health decisions. Lastly, it helps to predict patient prognosis, which, in return, guides interventions that prevent poor outcomes.
Big Data may contribute to the reduction of cost in health care. The medical data providers contribute to improved patient outcomes, shorter hospital stays, and reduced admissions and re-admissions (Pastorino et al., 2019). This reduces the cost of health care not only to patients but also to organizations and the government.
Potential Challenges/Risks of Using Big Data as Part of a Clinical System
Lack of compliance is a potential challenge of using Big Data as part of a clinical system. Compliance challenges are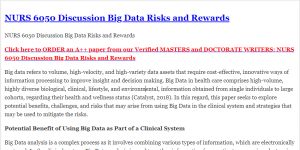 categorized into technical, operational, and legal. The HIPAA regulations require that every health care organization has policies and procedures that guide the protection of patients' information (McGonigle & Mastrian, 2017). However, many organizations may encounter challenges in complying with HIPAA regulations. Technical and operational compliance challenges arise concerning access control, authentication, and data security during transmission (Catalyst, 2018). Legal compliance challenges that may occur include personal autonomy, risk to compromise privacy, and public demand for trust, transparency, and fairness while using Big Data.
Data breaches are a potential risk when using Big Data in the clinical system. Data security is at risk of being compromised due to the increasing episodes of hacking, ransomware, and high profile breaches (Catalyst, 2018). Privacy and security issues are often a result of organizations lacking safeguards to protect health information. Besides, the lack of administrative safeguards of electronic protected health data and the use of public cloud services puts the health information at risk of being hacked (Catalyst, 2018). Even the most secured health data is at risk of security breach by the shortcoming of staff members who may fail to prioritize lengthy software updates that enhance data security and instead choose convenience (Catalyst, 2018). Data breaches have led to increasing levels of patient awareness and fear. This makes patients reluctant to provide their health information in fear of the data being accessed by a third party.
Strategy to Mitigate the Risk of Data Breach
Data security should be the priority for healthcare organizations, especially in the wake of increasing daily cyber-attacks. My previous health care organization used technical safeguards as per the HIPAA Security Rule to protect stored health information. The technical safeguards comprise of authentication protocols, transmission security, controls over access, integrity, and auditing (McGonigle & Mastrian, 2017). Health care organizations can adopt a similar practice by putting into place security procedures such as using up-to-date anti-virus software, encrypting sensitive data, setting up firewalls, and using multi-factor authentication.
Health organizations can conduct frequent staff training on data security. Staff members should be educated on the vital nature of data security protocols and trained on the updated security protocols (McGonigle & Mastrian, 2017). Furthermore, organizations should regularly review the staff who have access to sensitive patient data to prevent malicious parties' damage.
Conclusion
Big Data analysis in healthcare is used to gather information from different sources such as patient summaries, EHRs, clinical trials, and pharmaceutical data. The accessibility of such health-related information has a significant impact on the clinical system's medical and healthcare functions. Potential benefits include improved patient outcomes through diagnosis, interventions, disease prevention, pharmacovigilance patient safety, and prediction of outcomes. It can also reduce health care costs. Potential challenges and risks include compliance issues and data breaches. Data breaches can be mitigated by using technical safeguards such as per HIPAA regulations, staff training, and constant review of persons who have access to sensitive data.
References
Catalyst, N. E. J. M. (2018). Healthcare big data and the promise of value-based care. NEJM Catalyst, 4(1).
McGonigle, D., & Mastrian, K. G. (2017). Nursing informatics and the foundation of knowledge (4th Ed.). Burlington, MA: Jones & Bartlett Learning.
Pastorino, R., De Vito, C., Migliara, G., Glocker, K., Binenbaum, I., Ricciardi, W., & Boccia, S. (2019). Benefits and challenges of Big Data in healthcare: an overview of the European initiatives. European journal of public health, 29(Supplement_3), 23-27 https://doi.org/10.1093/eurpub/ckz168
Also Read:
NURS 6050 DQ Interaction Between Nurse Informaticists And Other Specialists
NURS 6050 Discussion The Application Of Data To Problem-Solving
NURS 6050 Assignment The Nurse Leader As Knowledge Worker